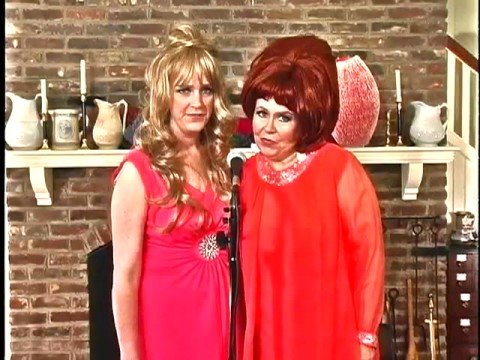 THEY SHARE KNITTING, AUTHORSHIP OF TWO BOOKS—and oh, yes, they also share "the hairdo luv" with anyone who can stop laughing long enough to open their eyes and watch their entire "Pardon Me (I Didn't Knit That for You)" country-music video. Such is the creative and crazy chemistry between "sisters" (our word) Kay Gardiner and Ann Shayne, known to knitters everywhere as Mason-Dixon Knitting. They are knit together (sorry) as tightly these days as DNA, but no genetic material is actually shared: The two met on a knitting chat board on the internet. Hallelujah that they did.
"Our Easter 1967 photos illustrate, we feel, some cosmic similarity," Ann says, despite Kay's "kuky glasses, and the fact that I really can't open my eyes in a photograph, now as then," but they don't think of each other as sisters—rather friends. Each is a "real" sister in her own right, with younger siblings whose influences have been strong.
"I have always loved the word 'sister' and its many applications and connotations," says Kay. "I love how the British call a hospital nurse 'the sister,' and how my grandmother would holler at me to 'tell Sister to come over' instead of using my sister's name. And I've realized for a long time that my friendships with women are a constant, necessary support. We joke that the knitting world is a coven, but in truth it's a sisterhood. The connection is real, it's hard to define, and it often has something to do with shared femaleness—so sisterhood is as good a word as any."
Ann grew up in Nashville, worked in book publishing in New York and Nashville, and, "took up knitting in a ferocious way when I ought to have been making dinner. My family doesn't remember life without a lot of yarn around the house."
Kay, an Omaha native who confesses to just a tad more years as a Camp Fire Girl than most, eventually moved on: to New York City for law school, where she then settled to pursue a career and a guy, and rediscovered knitting. "My  children preface all requests with the plaintive phrase, 'Mommy when you finish your row…,' " she says.
As astonishingly beautiful and expert as what comes off their needles is, Kay and Ann are the first to sound the reality gong so nobody gets all hung up and paralyzed by artsiness. One of Mason-Dixon's tenets reads: "Knitting is spoze to be fun."
With their blend of inspiration and approachability, no wonder that Kay and Ann's Mason-Dixon Knitting and Mason-Dixon Knitting Outside the Lines have been best-sellers, and their blog, masondixonknitting.com, their ongoing correspondence with each other that they call "at once a laboratory, whinefest, and public confessional," has just kept building in appeal since its start in 2003.
Knitting, they say, shouldn't be high art, nor should it be work: "Calling craft, or handwork, by the name 'art' somehow diminishes its worth in its own right," says Ann.
"The best projects are the ones that pop out of my head and grab me," she adds, "that desperate dive through the yarn stash is so exhilarating…and the crafty thrill is so addicting, and achievable for anyone who knits. We're pretty sure that world conflict would evaporate if everybody would just hush up, get their needles out, and knit awhile."
THE TSP INTERVIEW WITH KAY GARDINER AND ANN SHAYNE
Q. You know you're a sister when…
A. Kay: "When you're a small child, and your mother brings home a squalling, redfaced bundle of misery and says, 'This is your brother.' And then she does it again and says, 'This is your sister.' And then she does it AGAIN, and says, 'This is your brother.' (At least that was my experience.) As the eldest of four children, I have always had a strong sense of the regal status and awful responsibility of the Big Sister. The glorious burden of it all!
"In my family, sisters have always been a force to be reckoned with. My grandfather had two sisters who never married and always shared a house. One of them, my great-aunt Carrie, was the eldest sibling in that family, and she was, until the end of her days, a kind of a benign dictator.
"I have tried to adapt a more democratic model in my own Big Sister role, but I'm not sure my siblings would say I've succeeded. Hey! Primogenitur! Get used to it! Seriously, somebody's got to be the Big Sister. I would love to have a Big Sister, so I try to be the Big Sister whenever the situation calls for one. If I have an opinion, I have a duty not to keep it to myself."
Q: What does the word sister mean to you?
A. Ann: We each have a younger sister, so that's an entirely different sort of relationship. To me, it's a really biological thing: Buffy is my sister (and yes, she really is a Buffy, and she'll kick your ass if you say anything about it), and that's a profound, once-in-a-life relationship. Kay is some kind of nutty friend thing—I certainly have no other friend whom I met in such a weird way (on the Internet, on a knitting chat board), and that's just perfect. But I don't think of her as a sister—you don't choose a sister."
Kay: "I agree with Ann about the 'real' sister being a unique relationship; my younger sister, Amy, is the only person I think of as my sister. I have other long-term, close relationships with women. I think you know that a relationship transcends ordinary friendship when your friend's children call you Aunt. Not that they think you actually are their aunt, but they want to have a word for you. That's a very gratifying thing. But I've got just the one sister."

Q. Best of and worst of experiences with your sister or sister-friend?
A. Ann: "There's no better time to test the deliciously low borders of a friendship than a book deadline. We've done it twice now, and we're sorry to report that it wouldn't make a good Lifetime made-for-TV movie. I tend to get really sleepy when under stress, and Kay gets all energetic, so we end up a) napping and b) completely insomniac when a deadline looms."
Kay: "I'm with Ann—writing books is the best of times and the worst of times for a friendship. I do not understand how anybody writes a book—especially a book with 30 fantastic new knitting patterns—all by herself. The thought of such a lonely endeavor is almost creepy to me.
"With any large task that you think you might not be up to, it's essential to share the load with someone who thinks she might not be up to it, either. Without Ann and her exhaustive to-do lists, and her (hard-headed) (Javert-like) focused insistence on getting every last thing done, well, none of it would have gotten done.
"And when you are doing something together with someone as exquisitely alert to ridiculousness as Ann, you can't stop laughing at some of the situations you find yourself in (for example, a sweater that is still being knitted while the model is pulling it over her head at the photo shoot). And laughing at the situation is the best part of almost anything in life."
Q. Are there pop-culture or cultural references you both love, or love to fight about? Or ones that make you think of your sibling or sister-friend or of sisterhood?
A. Ann: "This list could go on for pages. Roger Angell, The New Yorker in general, Stephen Colbert, Manolo's Shoe Blog (pure stinkin' brilliant), a bunch of knitting blogs that we follow like an ongoing soap opera. Early on, we discovered we both loved Annie Dillard's very odd and haunting novel The Living. I keep trying to understand her unholy love of the BBC drama East Enders; she keeps wondering why I think the White Stripes are so great. Food writers are inspiring to us: Julia Child, M.F.K. Fisher, Nigel Slater, Betty Fussell, Michael Pollan. They make you love food the way we want to make people love knitting."
Kay: "Don't forget The Sartorialist blog! Without The Sartorialist, we would not be able to pursue our favorite hobby of mercilessly dissecting and describing Other People's Style, while we ourselves belong to the pristinely style-free cult of jeans and white T-shirts. We both really love old-timey twangy country music—but only the sad songs. In a past life, we were in a jug band, I just know it. This shared interest comes in handy on long, lost car rides to book signings, when we really get to wailing about the Great Depression."
Q. What's the greatest lesson you've learned from your sister (or sister-friend)?
A. Ann: "This is an easy one. Resilience. Kay's sturdy Midwestern worldview has made me think about how it's usually a good thing to buck up and deal with life with your eyes open and not a lot of guff."
Kay: "Ann probably doesn't even know that I learned this from her, but I can guarantee that it is down to Ann, and only Ann, that I was able to let go of my dignity enough to participate in our cult classic YouTube music video, 'Pardon Me (I Didn't Knit That For You).' Ann is game for anything. She will say, 'Yes let's do a crazy country song about knitting,' and then she will actually write the song and start nagging you to get your wig on and fly to Nashville to make the video.
Standing in Ann's living room, which she had re-styled (rather easily, I gotta say) to look like a set from the Glen Campbell Show, was the most natural thing in the world. Her boys would periodically wander in, asking about lunch, not batting an eye that Mom was wearing a tangerine prom gown and 2 feet of blond hair. It was so much fun that I resolved then and there to do any crazy thing Ann thinks up next."
A GALLERY OF MASON-DIXON KNITTING'S WORK
Ann says she and Kay share a point of view that she first learned from her "wildly crafty" mother, "about what looked good."
" 'Attractive' was a word I learned at a very young age," says Ann, "to be applied to fabrics, houses, or behaviors. I think about that word a lot, how sometimes things that aren't 'attractive' are actually beautiful. A Japanese boro quilt, made from absolute dregs of fabric, looks worn and faded, but the indigo dyes make it a breathtaking sight. Still, l think my mom left me with her basic sense of aesthetics. Less is usually more, a small surprise can be a big surprise, simplicity is better than complexity. Irregularity, imperfection…
"A faded dishcloth, knitted years before, looks really great to us. We like worn-out knitting. We're constantly showing each other things that we discover in books, on the Web, and our back and forth has been a constant amusement."
At TSP, where all but one of our founding sisters is a serious knitter, we think that Mason-Dixon Knitting's projects are attractive, beautiful, and even art (pardon US, Ann and Kay, but WOW). See for yourself. Thanks to photographer Gale Zucker for the incredible shots of Mason-Dixon's work.
__________
The three TSP knitting sisters (that would be everyone but Margaret Roach, who is better with a shovel) have a newly formed knitting group at Ravelry called TheSisterProjectKnits. Come join us (you'll first need an "invitation," which is easy to get by applying here. )